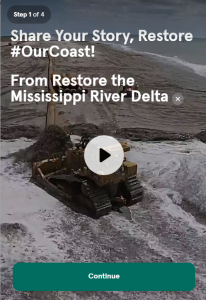 Stories are a powerful tool that unite and inspire us, even when we're apart. This project will allow us to shine a light on and share just how important Louisiana's coast is to each of us. By participating in the Restore #OurCoast project, your lived experiences can help motivate others to get involved and educate decision-makers to prioritize our coast so future generations have their own stories to tell. 
Our stories may vary, but the underlying love for our coast unites us all. It could be the place where you grew up, it may influence your culture, business or artwork, or even be where you hope to make new memories. Whatever your connection, Louisiana's coast needs your voice to help protect its future. With your stories, we can get beyond the statistics and maps, bring the places we love across our coast to light and put faces to the many who love Louisiana and want action taken on coastal restoration.
So, what's your story of #OurCoast? https://www.videoask.com/fqxau077e 
Feel inspired? Submit your own #OurCoast story. Here's a few ideas to get you started:
What makes you care about coastal Louisiana?
What's your favorite memory of Louisiana's coast? Where's your favorite place to spend time?
Who influenced your love of Louisiana's coast and how?
What gives you hope about the future of our coast? What inspires you?
---
More Stories
#OurCoast: Faith, Science, and Sea Level Rise

Sometimes, I find it really hard to be an earth scientist and live in New Orleans – and not just because we don't have any local rocks to speak of. Rather, I find myself overwhelmed as my work can inundate me with new facts and projections about the vulnerability of the place I call home.

#OurCoast: Exploring Bayous, Rivers and Faith

Riding aboard a sturdy Lafitte skiff, piloted by the inimitable Richie Blink, we learned about local flora and fauna, activities of the very-present oil and gas companies, and what the different fishing vessels going past us had in their hold

#OurCoast: Growing Up on the Working Coast

Having grown up with coastal wetlands (literally) in my backyard, I understand firsthand how critical the restoration of our land is to the success of sustainable coastal environments, as well as the richly intertwined culture.

#OurCoast: From the Headwaters to the Delta

Standing in the warm knee-deep water, I remembered being a kid and walking across those headwaters. I imagined the wetlands that would grow in this place, fueled by the dirt and fresh water of the Mississippi River. And in that moment, I felt a connection to Louisiana's coast and knew it was a special place I wanted to help protect.

#OurCoast: From Disaster to Restoration

When I heard there had been an explosion on an oil rig in the Gulf of Mexico, I knew it was going to be one of the most impactful events during my lifetime. I knew that once I really started to pay attention to the news surrounding the spill, I was not going to be able to stop. So I kept my head in the sand and powered through my schoolwork.
Photos
---
Concert for the Coast
| | |
| --- | --- |
| Concert for the Coast 2017 | Big Chief Juan Pardo |
| Lost Bayou Ramblers' Louis Michot | Harry Shearer |
| Keith Leiderman | Stanton Moore |
Feel inspired? Submit your own #OurCoast story. Here's a few ideas to get you started:
A tweet using the hashtag #OurCoast to expressing concerns you have for your children growing up in coastal Louisiana.
A short story about fond memories you have of coastal Louisiana and why protecting Louisiana's wetlands is important to you.
A paragraph about how the coast has changed since you were a kid and how the coastal crisis could impact your children and grandchildren.
A quick photo that illustrates the changing coast or showing why the coast is important to you.