What is the issue?
Since passage of the RESTORE Act in 2012, Louisiana officials have made clear commitments to using our state's share of funding for implementing the Coastal Master Plan. And while other Gulf states have proposed using oil spill funds for unrelated purposes, Louisiana's funds have remained committed to coastal restoration and protection. Even before the oil disaster, Louisiana voters constitutionally dedicated future revenues from the Gulf of Mexico Energy Security Act (GOMESA) to our Coastal Trust Fund.
We – government officials, citizens and stakeholders – have clearly demonstrated to neighboring states and the federal government that we are committed to our Coastal Master Plan. In explaining the gravity of our land-loss situation and why it merits national attention and federal funding, we have shown that we are serious about spending our oil spill dollars on restoring our coast. We must safeguard all coastal funding – state and federal – for coastal restoration and protection projects.
Why does it matter?
Our future depends on safeguarding coastal dollars for restoration, and we oppose any efforts that would take critical funds away from their intended purposes: actual restoration activities.
Despite our state and national budget crises, our future depends on safeguarding coastal dollars for restoration, and we oppose any efforts that would take critical funds away from their intended purposes: actual coastal restoration activities.
After years of consistent focus on master plan funding, we need to demonstrate, now more than ever, an ironclad commitment to restoration and protection.
Our work on this issue:
Recently, our Coalition released a statement urging Congressional leaders to fight back against President Trump's budget that would upend the Gulf of Mexico Energy Security Act (GOMESA), which shares offshore energy revenues with four of the Gulf states that are impacted by its production, as well as other critical programs that protect our communities and wetlands.
Coastal restoration and protection is an issue of tremendous importance to all Louisiana residents, regardless of political party. Our Coalition has consistently fought back against any attempts to raid critical coastal funds.
In March of 2016, President Obama's proposed budget redirected GOMESA funds away from Gulf Coast restoration. Our Coalition sent a letter to President Obama, signed by 330 groups ranging from local governments and businesses and industry to environmental organizations and community groups, asking that he reconsider.
We also sent a letter to Governor John Bel Edwards, signed by 29 Louisiana business associations, chambers of commerce, economic development organizations and civic groups, urging him to protect funding for coastal restoration and to move forward with implementation of the state's Coastal Master Plan.
OUR REPORTS SUPPORT FUNDING:
Our Coalition, in conjunction with Coast Builders Coalition, released an analysis entitled "Changing Restoration Costs" prepared by The Water Institute of the Gulf (WIG) that outlines opportunities for the state of Louisiana to achieve substantial cost savings as it advances its master plan. The findings showcase the tremendous opportunity to save hundreds of millions of dollars by moving projects forward sooner, whether through private investment or public funding or through bonding funds for future restoration projects whenever possible.
A report released by our Coalition member, Environmental Defense Fund, along with the LSU Economics and Policy Research Group, found that economic losses in Louisiana could total $11.2 billion over 50 years if the Coastal Master Plan is not implemented. But the study also shows that construction of the master plan projects could create 7,800 to 10,500 jobs a year, representing increased wages of $460 million to $620 million a year and additional economic benefits of $1.1 billion to $1.5 billion a year.
A 2016 report released by our Coalition found that water management, which includes coastal restoration, coastal protection and urban water management, now represents the largest economic driver in southeast Louisiana and the second largest across the entire coastal zone. This means that protecting funding for coastal restoration is a wise investment in our state's future.
As our state and country work to address budget challenges, it is important to remember that investing in coastal restoration will create jobs and grow the economy in addition to protecting existing businesses, communities and infrastructure. Investments made today will more than pay off in the long run as our region becomes an economic hub for coastal restoration and climate resiliency, while also helping to protect the people, industries and wildlife that call coastal Louisiana home.
Louisiana voters agree:
A recent poll of Louisiana voters found extensive statewide support for the master plan and coastal funding.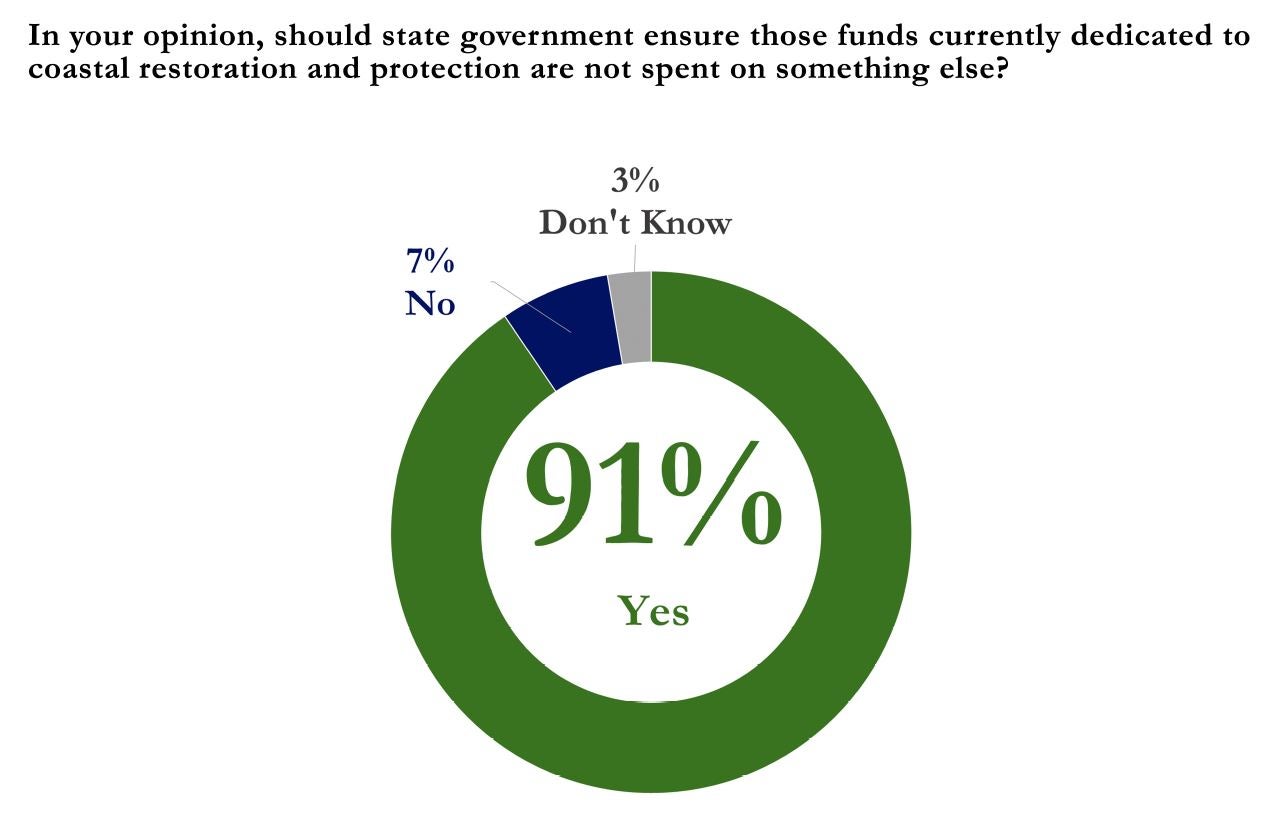 ---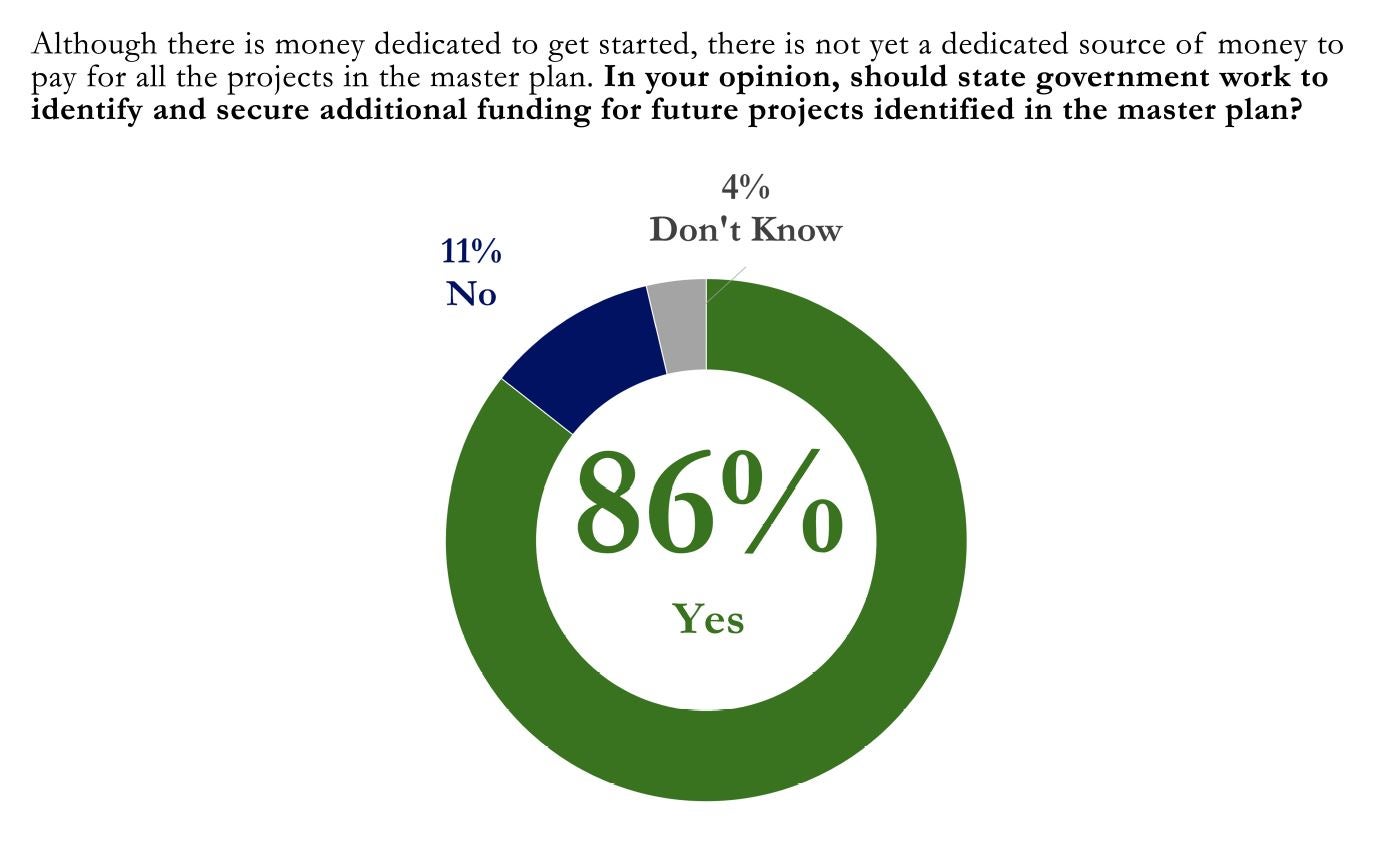 ---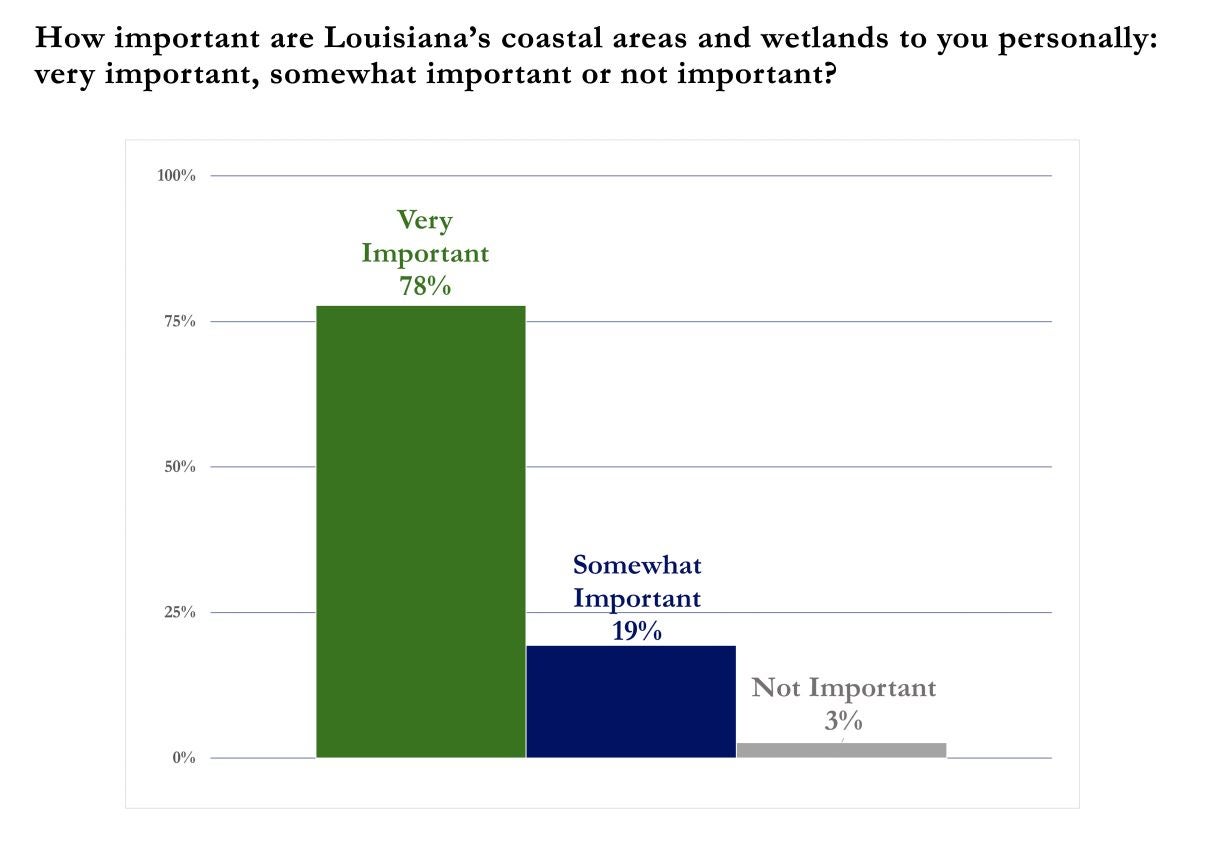 ---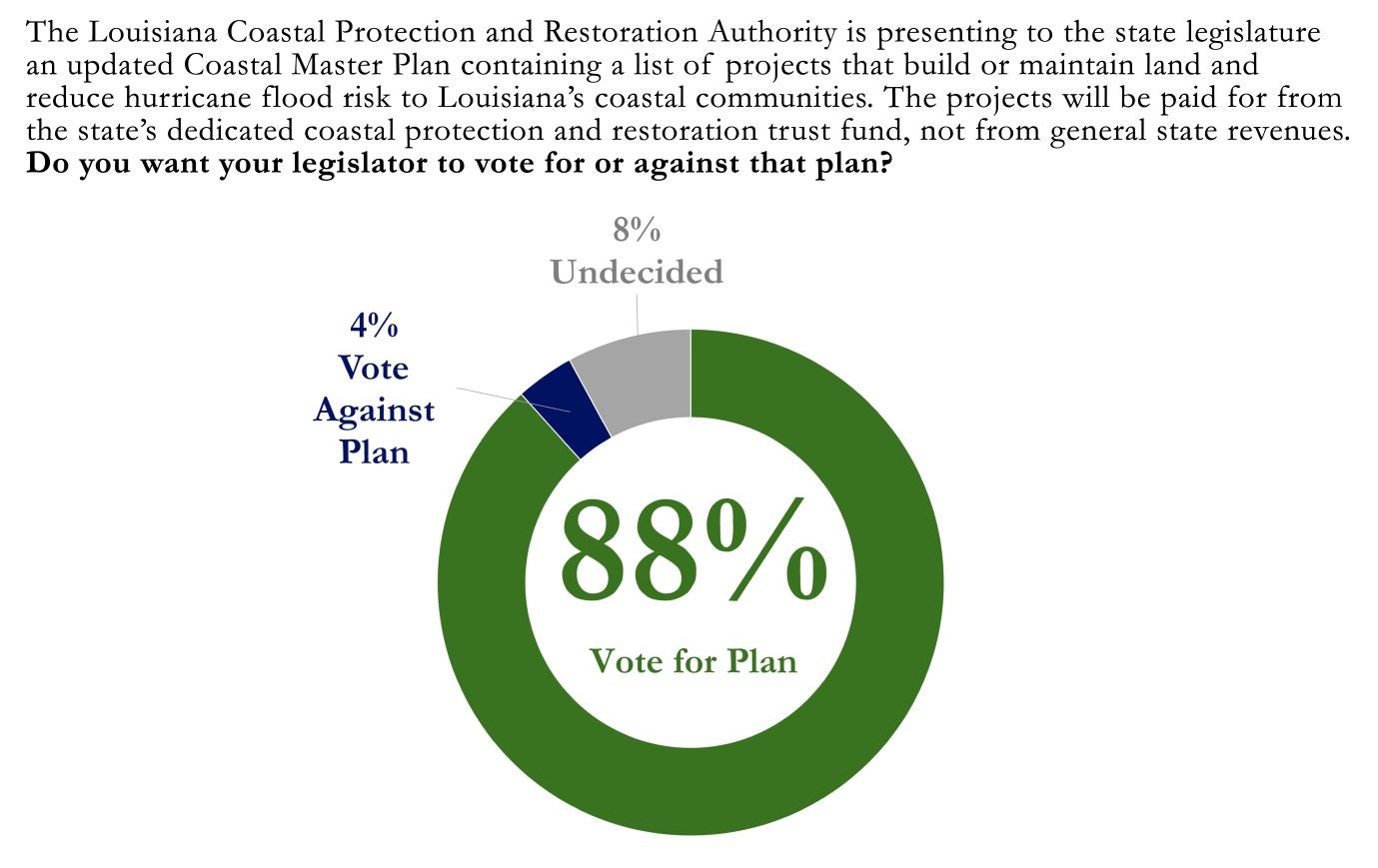 Media coverage on coastal funding: