Announcing Simone Maloz as Restore the Mississippi River Delta's Campaign Director
These last few months have made it abundantly clear that Louisiana needs its coast now more than ever. Since Hurricanes Katrina and Rita devastated our state more than 15 years ago, there has been considerable progress to implement the Coastal Master Plan, resulting in increased flood protection for more people and businesses, restored habitat for fish and wildlife, as well as the creation of jobs and the restoration economy. However, much work remains, and the coming years will see some of the most significant, ambitious coastal restoration projects anywhere on the planet move forward right here in Louisiana.
Restore the Mississippi River Delta (MRD) has worked for nearly 15 years to address Louisiana's coastal land loss crisis with bold, science-based restoration solutions to protect the region's people, wildlife and jobs. As we continue this pivotal work to advance an equitable, safer, and flourishing coast for Louisiana's communities, ecosystems and economy, MRD is pleased to introduce Simone Maloz as our new Campaign Director.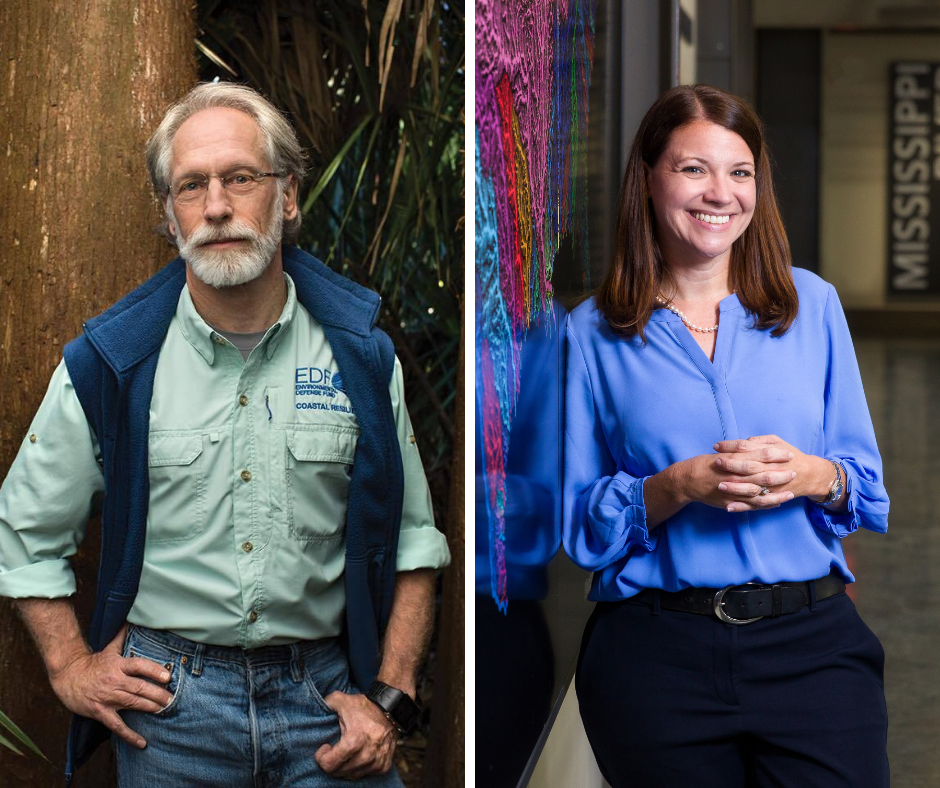 After 6 years successfully at the helm of our coalition, Steve Cochran is departing to assume a new role leading Environmental Defense Fund's (EDF) State Affairs work across the country. Steve will stay in New Orleans and remain a steadfast champion and advocate for Louisiana's coast at the national level. His new role will allow him to bring even greater focus from EDF to Louisiana on a range of important environmental issues.
Listen to Simone and Steve on Delta Dispatches
"We owe Steve a debt of gratitude for his steadfast leadership of our MRD coalition through some of the most significant years for Louisiana's coast ever. We are glad he is not going too far and know he will always remain a champion for Louisiana's coast and communities." – Natalie Snider, Environmental Defense Fund
Simone brings 16 years of experience in organizational leadership, coastal advocacy, policy work, outreach and more to the Restore the Mississippi Delta coalition after previously serving as the executive director for Restore or Retreat — a partner organization and nonprofit coastal advocacy group working to identify and expedite the implementation of aggressive, large-scale restoration projects. Through that partnership, she has been directly embedded and working alongside the MRD for more than a decade. In 2017, she was awarded the Coastal Stewardship Award by the Coalition to Restore Coastal Louisiana in recognition of her impact in addressing our coastal crisis. Simone has also been the co-host of the MRD's Delta Dispatches podcast, where she has interviewed thought leaders on coastal issues in more than 150 episodes since 2016.
A Houma native and Jefferson Parish resident, Simone is a leading expert on coastal restoration. Appointed to serve on the Governor's Advisory Commission on Coastal Protection, Restoration and Conservation, she is also a member of the Commission's Diversion Subcommittee and is the Infrastructure and Governmental Affairs Co-Chair for the Southern Central Industrial Association. Simone serves as an advisor on coastal issues to GNO, Inc. and their Coalition for Coastal Resilience and Economy. She is also on the Executive Board for the LA-1 Coalition, which successfully advocated for funding the completion of one of our state's largest infrastructure projects. 
"The perspective, experience, relationships and energy that Simone brings to the coalition will create immediate impact as she works to advance our coalition's vision of a just, climate-resilient coast where people and nature thrive." – Steve Cochran
 As we wish Steve success in his new role, we are excited to have Simone lead the coalition forward as we continue the vital work of addressing Louisiana's land loss crisis.  
Hear directly from Steve and Simone about this news, why they're each excited for their new roles and more in the latest episode of the Delta Dispatches podcast!