Hurricane Season Has Started. This Coloring Book Can Help Your Family Prepare.
The arrival of June marks the official start of the 2020 hurricane season.
Already, the United States has seen two named storms form in the Atlantic Ocean. The National Hurricane Center also predicts that a tropical disturbance in the Gulf of Mexico near Central America will turn into a tropical storm within the next few days.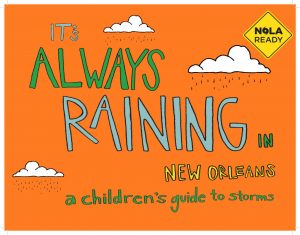 This year, NOAA predicted another busy hurricane season — a trend that's only expected to continue — with 13 to 19 named storms between now and Nov. 30. Of those named storms, six to 10 could become hurricanes. 
Living along the Gulf Coast, Louisiana's communities are constantly at risk of being impacted by these storms. But we can mitigate those risks by prioritizing the fortification of natural infrastructures like our barrier islands and marshes to enhance the strength of our multiple lines of defense.
Talking about all of the issues surrounding hurricane season can be a hefty topic for anyone to handle, let alone when you're trying to explain it to kids.
"It's Always Raining in New Orleans: A Children's Guide to Storms" was created to showcase the oft-hidden structures and vital preparedness procedures that make day-to-day life possible living in a deltaic coastal city. 
Where it rains.  A lot. 
Local artist Amelia Broussard and I created this coloring book guide in collaboration with the City of New Orleans NOLA Ready Office of Homeland Security and Emergency Preparedness. We tried to create an educational resource that was also engaging, well-designed and, of course, fun! 
We hope that kids (and even adults!) can get more use from it than your average coloring sheet and have this as an ongoing resource throughout this hurricane season. Perhaps reference some of its tips while the sheet hangs on your refrigerator door?  
The book follows a pelican named Pearl as she flies into the city from her coastal wetlands home.
She takes stops that feature key water infrastructure along the way, only to find that a hurricane is heading to New Orleans and she needs to prepare! It walks through how to prepare for sheltering in place and outlines the key steps to take when a big storm is coming – including how to access city assisted evacuation services. 
Other activity pages review what items to keep in a shelter-at-home kit and what to pack in a "go bag" in the case of evacuation. The end of the book includes definitions to reinforce learning by repeating some of the key terms used throughout the book.
Below you can download and print PDFs of the full coloring book for some fun at-home coloring, learning and preparedness!