Louisiana's Coast Will Receive Largest Single-Year Funding in State History
Late this January, the State released their largest Coastal Annual Plan ever, outlining nearly $1.3 billion dollars of spending over a one-year period for protection and restoration projects across the coast. With many communities still rebuilding from the devastating hurricanes of the last two years, this investment is more important and urgent than ever to rebuild wetlands and protect communities made vulnerable by land loss and sea level rise.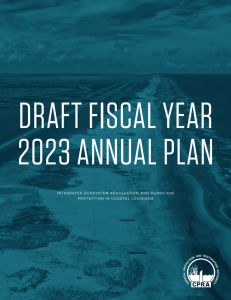 The Coastal Protection and Restoration Authority (CPRA) is required to produce a Coastal Annual Plan that lists all the restoration projects that are in the process of planning, design, and construction, including project timelines and budgets. The plan is now out for public review before the Legislature votes on approval this Spring. The Fiscal Year 2023 (July 1, 2022 to June 30, 2023) Annual Plan provides an update on the state's efforts to protect and restore its coast and describes the short-term and long-term restoration work that communities can expect to see as the state progresses toward a sustainable coast.
This year's nearly $1.3 billion commitment to coastal protection and restoration is a testament to the importance of this work and demonstrates the level of urgency and significant action needed to take on our state's land loss crisis. Over the next 3 years, $3.5 billion will be invested in coastal protection and restoration projects with over 80% of those dollars going to project construction. These funds will be spent on critical, priority restoration projects that have widespread support and are scientifically sound. You can explore the projects from the new Annual Plan on your own through CPRA's Interactive Map.
According to recent polling, Louisianans hold a nearly universal belief that the state should prioritize confronting its coastal land loss crisis with urgency. An overwhelming 97% of voters along Louisiana's coast agree that state officials should work to maintain as much of the coast as possible and 70% of voters believe stronger hurricanes and increased coastal flooding are already having an impact on themselves and their families.
At public meetings held the last week of January across the coast and online, CPRA presented the draft Annual Plan and took comments from community members which were entered into the state record and will be considered in the development of the final version of the plan. A diverse and engaged group spoke in support of the plan, the need for innovation, the restoration projects prioritized in the plan,  and the state's approach to connecting the river with its delta. Here are some highlights:
"As people of faith we all recognize our call to care for God's creation by creating action plans and personal practices which will sustain our shared life together. For those of us who live, move and have our being in coastal Louisiana, this 2023 Annual Plan represents an Integrated Ecosystem Restoration and Hurricane Protection for Coastal Louisiana." – Deacon Joseph M. Clavijo
"With all my grandparents born in the NOLA area and much of my family remaining, the significance of this plan and funding is quite meaningful… And I am fortunate to have grown up in a family that cherishes the bounty of our coastal resources and the so called "sportsman's paradise" – recreationally fishing, crabbing, and shrimping and spending time at family camps in Lafitte and Grand Isle, I truly appreciate what is at stake." – Corey Miller, Coalition to Restore Coastal Louisiana
"Freshwater means swamps and trees and that's building up the coastal buffer and protects our communities and to me, at the end of the day, that is the most important thing." – John Lopez, Delta Science
"As a resident, former Parish President and current board member of the Pontchartrain Conservancy, I fully support the plan, specifically projects in and along Lake Pontchartrain and the River Parishes. I am most familiar with the West Shore and Lake Maurepas projects and appreciate CPRA's commitment to getting them constructed." – Natalie Robottom, Pontchartrain Conservancy
There is still time to share your thoughts on the importance of Louisiana's restoration plan for the coming year. We encourage you to weigh in from your perspective with ideas, comments, and support for the FY23 Annual Plan. 
Written comments can still be submitted by email to coastal@la.gov or by snail mail to CPRA 2023 Annual Plan, 150 Terrace Ave, Baton Rouge, LA 70802. The deadline to submit is February 26th.
Check out our Community Guide to Coastal Restoration to learn more about the Annual Plan, and other coastal restoration funding sources and decision-makers.