National Estuaries Week 2019: Why it Matters and How to Celebrate
National Estuaries Week was founded in 1988 by the National Oceanic and Atmospheric Administration (NOAA) as a single day to encourage exploration and appreciation of local estuaries. It's now become a weeklong celebration of the myriad benefits that bays and estuaries provide to communities nationwide, thanks to groups like Restore America's Estuaries and others.
What is an estuary?
Estuaries are essentially where rivers meet the sea. The intermingling of fresh water draining in from the river and salt water coming in from the ocean creates a mixture known as brackish water containing a range of salinities. Here in Louisiana, brackish water and the surrounding wetlands provide highly productive habitat for key species, including endangered or threatened bird species and the majority of the Gulf's more important commercial and recreational fish species.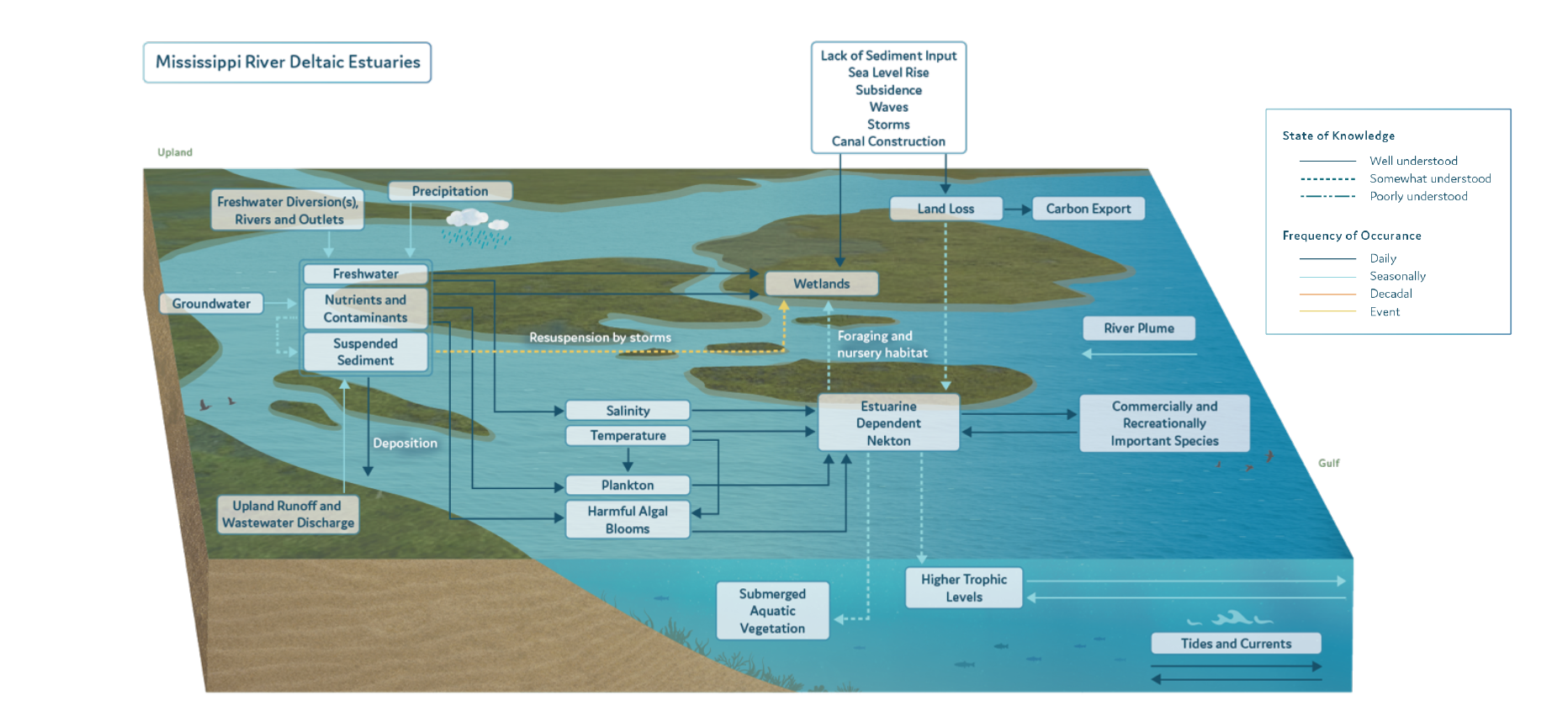 The estuaries of the Mississippi River Delta were built and shaped over time by the fresh water of the river and the sediment it carries, but this sediment flow has been reduced over time due to control structures on the river and levees. This is especially evident in the comparison between the ongoing land-building in the Atchafalaya Basin and the continued, severe land loss in the fresh water and sediment-starved Terrebonne Basin.
Rivers – their fresh water and their sediment – are key to building and sustaining land across coastal Louisiana. Finding ways to use rivers to restore the coast will be essential to maintaining the region. Check out this interactive graphic to learn how the lack of sediment in the Mississippi River influences the estuary and how freshwater diversions influence the deltaic system. 
Home for birds and protection for people
Barrier islands can be found in some of the saltiest water of estuaries, serving as the first line of defense against storm surge and sea level rise, and providing critical stopover and nesting habitat for colonial birds.
Barrier island restoration projects like those at Whiskey Island and Caillou Lake Headlands deliver multiple benefits for birds and other wildlife, local communities and the overall health of the coastal estuary. Bald eagles, brown pelicans and piping plovers have all experienced a huge comeback in the Gulf thanks to barrier island restoration projects that connect these special bird species to the food and habitat they need to survive.
Fish and other marine life
Some of the most commercially important fish species in Louisiana can be found in our local estuaries, which provide protection and ideal environmental conditions for spawning and nesting habitat for many species. Newly hatched White and Brown Shrimp use estuaries as nursery grounds, while Southern Flounder stay in bays and estuaries as they grow from juveniles into adulthood, only moving to the Gulf to spawn.
Species like Gulf Menhaden and Bay Anchovy are fished both as food as well as for products like fish oil. They also act as a key link in the food chain by connecting primary producers – the base of the food chain – to predator species like birds, jellyfish, dolphins and other marine mammals, and other fish. These predator-prey interactions are important for the sustainability and health of the entire ecosystem.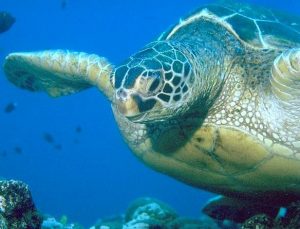 Atlantic Green Sea Turtles migrate over a wide range that extends through the Gulf of Mexico and Caribbean, but feed on algae and seagrasses in shallow waters and estuaries as adults and when they come ashore to nest. Kemp's Ridley Turtles, the smallest and most endangered marine turtles in the world, also make their home in nearshore habitat throughout the Gulf of Mexico. Louisiana estuaries are some of their primary feeding grounds as they develop into adulthood. They hunt for crab, fish, jellyfish and mollusks in shallow seagrass habitats and wetlands.
Volunteer with us
Celebrate this National Estuaries Week by experiencing these environments firsthand while helping to protect them! There are several volunteer opportunities you can take advantage of this week:  
Oyster Shell Bagging for Coastal Reef Restoration in Buras
Saturday, September 21, 2019 9:00am – 1:00pm
Beach Sweep around Pontchartrain Basin
Saturday, September 21, 2019 9:00am – 3:00pm