New Orleans Region On Track for Top 5 Wettest Year On Record
How Climate Change is Delivering More Water Than Ever and Freshening Our Estuaries
Louisiana and Mississippi residents are already experiencing the impacts of climate change, including more intense rainfall, stronger hurricanes and warmer temperatures.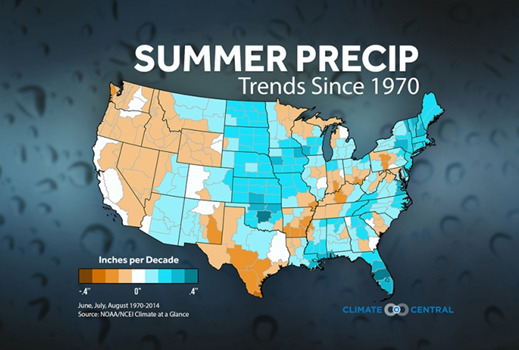 Since 1970, according to data from the National Weather Service and Climate Central, the summer months have been trending much wetter. This trend has many more implications to our communities, basins and ecosystems than just costly inland flooding.
A long-term wetter climate along the Gulf Coast has direct implications to water quality and salinity. Here are three reasons why the soggier normal is a big deal:
1. Record precipitation leads to increased flood risk
2021 has been incredibly soggy across southeast Louisiana and south Mississippi with rainfall totals far surpassing the average we are used to seeing.
By August, the New Orleans International Airport (MSY) had already surpassed its average yearly rainfall total of about 63 inches. In addition, since 2015, five out of the last seven years have seen average to above average rainfall.
Climate change is causing more moisture in the atmosphere, which leads to intense, heavy individual downpours. In the last 110 years, the annual-maximum daily precipitation has increased by 8.5%, which many folks in our region have experienced in the form of huge bursts of rainfall that can overwhelm an area in a matter of hours.  
Increased heavy rainfall events lead to  more highly saturated soils, which result in a higher rate of rainwater runoff during a storm event.
These conditions exacerbate a flood situation and place a greater strain on local pumping systems to keep up with the excessive rainfall.
When rain falls faster than the drainage system can remove it (more than an inch an hour for the first hour and half an inch per hour in subsequent hours), water accumulates, flooding cars, homes and businesses.
2. Heavier rainfall drives higher volumes of river discharge
As of today's date, MSY has received 83.69 inches of rain and is on pace to see the second wettest year on record. This surplus of rainfall has resulted in substantially higher local river levels, especially in the spring and summer months of 2021.
Multiple rivers in the northern Gulf of Mexico basin have doubled their flow in 2021 compared to 2017.
The Amite, Biloxi, Mobile, Pascagoula, Pearl, Tickfaw, and Wolf Rivers are twice the flow of 2017 year to date.
As excessive precipitation increases across this region, excess water flows downriver into our basins creating fresher water conditions.
At the same time, since October, conditions have been relatively dry throughout our region. Science indicates that climate change is causing greater extremes, including heavy downpours and drought, making events like the 2016 Baton Rouge floods 40% more likely and increasing rainfall intensity by 10% as well. 
3. More rainfall makes our estuaries fresher
Historically, Louisiana's estuaries were more fresh as the Mississippi River flooded in the spring and sent water, sediment and nutrients across our basins. With leveeing of the Mississippi River and other waterways, our rivers were locked in place, resulting in greater saltwater intrusion that increased salinities across our coast and also caused land and habitat loss, including the ghost forests of dead Cypress and Oak trees we see marking our coastal landscapes.
However, extreme rainfall flowing down the Mississippi River from the basin, as well as local rainfall, have resulted in greater fluctuation and fresher conditions across our coast in recent years.
Even in years without an opening of the Bonnet Carré Spillway and without any large-scale river diversions currently in place, our basins and estuaries are experiencing freshening events as a result of this excess rainwater from local rivers or stormwater runoff from the surrounding land.
That is an impact of climate change, and we need to figure out how to address this new normal and adapt to changes over time. There is no status quo on Louisiana's coast.
Higher discharge from area rivers and runoff from the surrounding land can directly contribute to fresher salinities, higher rates of excess nitrogen and phosphorus, which are key accelerants for algal growth. 
Here in the Pontchartrain estuary, a freshening effect has been noticeable with the completion of the Hurricane and Storm Damage Risk Reduction System (HSDRRS) and closure of the Mississippi River Gulf Outlet (MRGO). Prior to its closure, the MRGO negatively impacted over 1 million acres of coastal habitat, causing saltwater intrusion that led to massive wetland loss, resulting in decreased habitat for wildlife and reduced storm projection for people in our region.
However, a recent report, MRGO: The Road to Recovery, highlighted how closure of the shipping channel has had a tremendous, positive impact on the entire basin noting, "that the relatively simple navigational closure of the channel is possibly the most beneficial restoration project to date in Louisiana, helping return salinity throughout the Pontchartrain Basin to pre-MRGO ranges."  
Historic rainfall and river heights, with operation of the Bonnet Carré Spillway in 2016, 2018, 2019 and 2020, has decreased the measured salinity values at 12 recreational locations in Lake Pontchartrain. 2019 noted some of the lowest salinity measures over the last twenty years in the basin, coinciding with flood fight. In 2021, the mean salinity value was 0.9 parts per thousand.   
Beyond changing the salinity balance in estuaries, increased rainfall can also cause changes in the abundance and distribution of species. For example, cypress trees require salinities below a 2 ppt concentration to be viable, and large swaths of the canopy in the Maurepas swamp have died off due to saline intrusion. So too can increased rainfall change the consortium of fish and other aquatic life in estuarine systems.
Rainfall may have a direct impact on salinity values, but the occurrence of extreme rain events can increase the probability of contact of pollutants with stormwater runoff. With appreciable changes in the amount of phosphorus and nitrogen in our waterways, rivers and waterways can be adversely affected by eutrophic events, specifically, the bloom of algae.
The appearance of large swaths of algae covering the surface of Lake Pontchartrain has always coincided with historic openings of the Bonnet Carré Spillway.  However, NOAA's Harmful Algal Bloom remote sensing satellite system showed the presence of cyanobacteria in the estuary near June 24, 2021,  after a very wet spring. The coverage and density of the HAB's increased throughout the summer time, culminating in some of the largest measures shortly before Hurricane Ida made landfall. This was an unprecedented development, as the cyanobacteria were present in high remote measures from contributions of bayous and waterways into the estuary, but without a concurrent contribution from the Mississippi River by way of the Bonnet Carré Spillway.
Looking ahead: Finding solutions for this wetter, new normal
2021, 2019 and other recent wet years have provided a wake-up call that we must reconsider how to better manage this excess water.
Looking ahead to this wetter new normal, we must prioritize natural infrastructure and restoration solutions, including restored floodplains, wetland restoration, retention ponds and green infrastructure, to reduce flood risk while also accommodating and filtering this excess water.
We must also work to reduce runoff and harmful chemicals and pollutants to improve the quality of water flowing into our waterways and estuaries. You can learn more about the efforts Pontchartrain Conservancy is undertaking to improve water quality in our basin and get involved here.