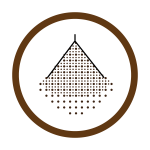 Ama Diversion
Conceptual
Feasibility & Planning
Engineering & Design
In Construction
Construction Complete
Project Type

Sediment Diversion

Project Basin

Barataria Basin
Located in St. Charles Parish, the $882-million Ama Sediment Diversion will divert sediment, nutrients and freshwater from the Mississippi River to existing wetlands in the upper Barataria Basin and will also likely benefit marsh creation projects further down in the basin. With a maximum capacity of 50,000 cubic feet of water per second, the project will build and sustain wetland forests, fresh and intermediate marshes by increasing sediment input, water flow and nutrients in the basin. It will be designed to operate at maximum capacity when the river's flow reaches one million cubic feet per second.
The diversion is expected to build or maintain 76,600 acres of wetlands over 50 years. Land building by the diversion will likely be accelerated by the presence of the Large-Scale Barataria Marsh Creation and Mid-Barataria Sediment Diversion projects. 
| | |
| --- | --- |
| What does a future without action look like? | What does a future with action look like? |
| | |
When operated in conjunction, the Ama diversion, River Reintroduction into Maurepas Swamp diversion, and the Union diversion planned upriver of the Bonnet Carre Spillway could divert up to 77,000 cubic feet of water per second from the Mississippi River. These diversions would reduce the duration of Bonnet Carre Spillway openings and the quantity of water that moves through the spillway. 
On its own, Ama will also divert water away from the Lake Pontchartrain basin and Mississippi Sound that would otherwise flow through the Bonnet Carre Spillway. 
Modeling done in a new Tulane study suggested that when Ama North and Union were operated jointly, the volume of water flowing through the spillway reduced by 57 to 61 percent and reduced the duration of the opening by 47 days, or over a month.
The Ama Sediment Diversion project is still conceptual but the planning and engineering is estimated to take five years. Construction is estimated to take three years.