Restore the Coast, Protect the Gator
By
Kelly McNab
, Communications Associate, Restore the Mississippi River Delta Coalition
In Louisiana, alligators are thriving, but coastal land loss may threaten their future. 
In the mid-20th century, the future of the American alligator was anything but certain. Due to unchecked hunting and loss of habitat, this giant reptile was federally listed as an endangered species in 1967.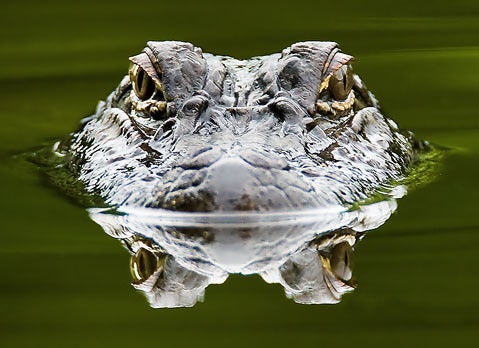 Thanks to the enactment of state, federal and international wildlife protections, the American alligator's population rebounded and is now considered "one of the first endangered species success stories". 
Louisiana and Florida claim the largest populations of alligators, with more than one million wild alligators in each state. The thriving population of alligators in Louisiana are kept in check through commercial alligator ranching and a regulated hunting season. Both consumptive (meats and hides) and non-consumptive (wildlife watching) use of alligators in Louisiana brings hundreds of millions of dollars of revenue to the state annually.
However, like many wildlife species and people across Louisiana's coast, the alligator's future is threatened. Wetland loss plus climate change could spell a disaster for the alligator, as well as the entire bounty of Louisiana's coast and communities across the entire bottom half of the state. 
As the gator takes center stage at the Macy's Thanksgiving Day Parade in New York, we are grateful for the alligator and efforts to protect its habitat and restore Louisiana's coast, but more urgent action is needed. 
Counting down the days…We're 1 WEEK OUT from the 2021 @Macys Thanksgiving Day Parade! 🦃🎉

Here's a sneak peek of our Celebration Gator, capturing the spirit of all things #OnlyLouisiana & #FeedYourSoul! 🐊✨ Who's getting excited to share a little Louisiana with the world? 🌎 pic.twitter.com/uqiTa9baxR

— Office of Lt. Gov. Billy Nungesser (@LouisianaLtGov) November 18, 2021
Saltwater intrusion and coastal wetland loss put much of the freshwater habitat the alligator depends on in jeopardy. As this habitat disappears, so does the bounty of Louisiana's coast and all that it supports, particularly the vital natural buffer from more the looming threats of intense storms and sea level rise.
Louisiana's Coastal Master Plan outlines how a future without coastal restoration will significantly reduce coastal wetlands, eliminating freshwater habitat upon which the alligator and other species depend.
As we celebrate the gator and Louisiana, we need to also act with urgency to restore Louisiana's coast to protect the gator and all wildlife and people it supports.
Our best chance to do this is to reconnect the Mississippi River and its sediment, freshwater, and nutrients to coastal wetlands to nourish and sustain them over time. Restoration projects help protect these wetlands from saltwater intrusion, preventing the devastating loss of freshwater habitat that fish and wildlife, like the American alligator, need to thrive.
In areas that have been reconnected with the river, such as at the Caernarvon and Davis Pond Diversions, as well as the Wax Lake Delta, and Mardi Gras Pass, we are already seeing thriving populations of alligators.
And where alligators thrive, so do other species. It's a sign of healthy, sustainable ecosystems that also provide vital protection for communities across Louisiana's coast. Protecting the habitat for these prehistoric animals will give future generations the opportunity to experience and enjoy the full bounty of Louisiana's coast.
Help us restore Louisiana's coast to protect the gator and more!
Resources: