Stunning documentary Last Call for the Bayou now streaming for free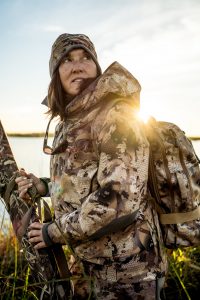 If you're looking for a genuine Louisiana story, Last Call for the Bayou gives you five.
Encompass Films' independent documentary series offers diverse perspectives from a group of people who care deeply about the coast, streaming for free on the Smithsonian Channel. Each recognizes the threat presented to our culture and their ways of life if huge steps aren't taken to address our land loss crisis.
Crouching in marsh grass with veteran duck hunter Albertine Kimble, one film takes you into the rapidly degrading wetlands of Plaquemines Parish and the life of a woman advocating to save her wooden duck-filled, 21-foot-tall home and a community where she has lived her entire life.
The subsequent sagas showcase a range of other characters, all with their own stake in fighting to preserve Louisiana's coast. 
High-flying, New Orleans-based photographer Ben Depp gives you an ethereal birds-eye view of our disappearing delta as he soars over the coast in his paramotor, capturing a landscape of stunning beauty and sadness. Though he isn't a Louisiana native, the large-scale impact of coastal erosion has kept him in the state, drawn to inspiring action through his breathtaking photography.
Filmmakers Dominic and Nadia Gill introduce us to Alex Kolker, a coastal scientist whose research in Louisiana has made him optimistic that action can be taken to restore and maintain coastal wetlands in the face of sea level rise. Kolker's observations of one of the few areas of the state that is gaining land give us a sense of direction. Of course, Kolker isn't afraid to eat a bit of Louisiana's swampy dirt, as long as it's in the name of science.
As the combined forces of rising seas and sinking land continue to take a toll on his family business, shrimper Gleason Alexis shares how he's seen his coastal community change within his lifetime. He also imparts a deep love for his and his family's experiences as fishermen. While concerned about the impact changes to the coast may have on his business, Gleason ultimately realizes he'll be required to adapt in order to stay afloat as part of the state's renowned commercial fishing industry.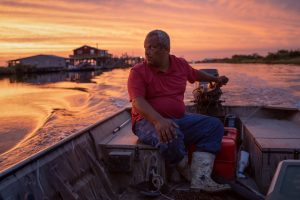 Finally, you head even farther south down the bayou to Terrebonne Parish, home of the United Houma Nation Indian Tribe that has lived on the land for centuries. In meeting Kasha Clay and her family, we take a peek into a tribe with members who have been forced, over centuries, to migrate from the land of their ancestors. Now, their heritage, culture and homes are threatened by the force of the Gulf migrating inward. Despite these threats, Kasha looks to her elders for guidance on the past, which she imparts on future generations to keep their heritage alive. 
The Last Call for the Bayou series goes beyond the oft-cited statistics of Louisiana's land loss crisis to deliver striking images and moving stories of the people on the frontlines. Through the power of heartfelt human storytelling, the films showcase those refusing to bid the bayou farewell.
Streaming launch: The full five-part series will be streaming for free starting Friday, April 10.
Where to watch: The series is available on Smithsonian Channel Plus, as well as on Facebook, YouTube and IGTV.