Sweeping Water Bill Advances Coastal Louisiana Restoration
The Water Resources Development Act: critically important legislation for Louisiana's coast that you've probably never heard of
By Charlotte Runzel, Policy Analyst, National Audubon Society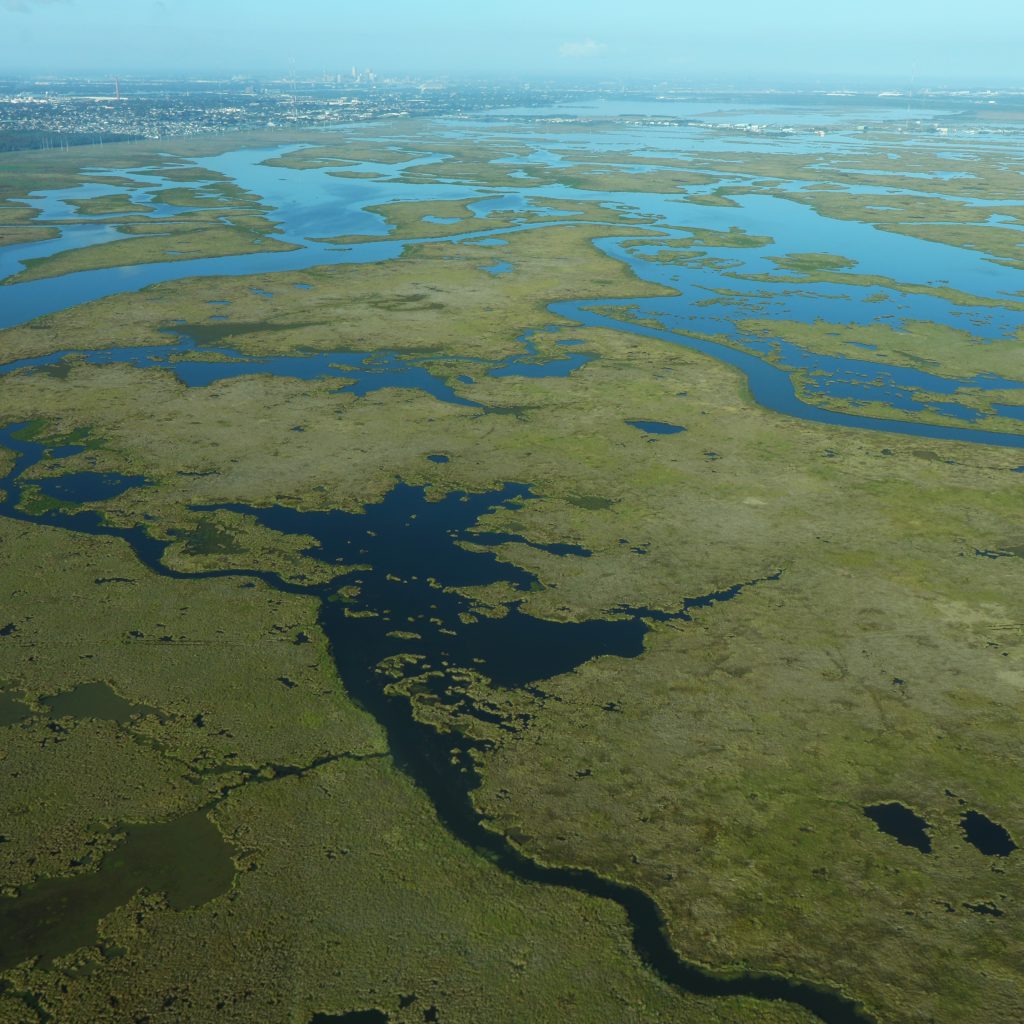 Coastal Louisiana is facing a land loss crisis. Over thousands of years, the Mississippi River brought fresh water and sediment and built the Mississippi River Delta. Due to human alterations, stopping the transfer of these two important resources, Louisiana has lost over 1,900 square miles of land in 90 years.
Far from Louisiana, lawmakers in Washington, DC, at the end of 2020 passed bipartisan legislation, called the Water Resources Development Act (WRDA) that helps address this crisis. WRDA authorizes navigation, flood risk, and aquatic ecosystem activities led by the U.S. Army Corps of Engineers (the Corps). Since the Corps oversees many of the restoration and flood control projects for the Mississippi River and coastal Louisiana, WRDA is critically important legislation for the state.
Since 1974, WRDA is written and passed into law generally every two years. Last year, Congress passed WRDA 2020, which was supported by Republicans and Democrats alike and included some big wins for coastal restoration:
1. Bringing New Life to the Coastal Louisiana Ecosystem Protection and Restoration Task Force
In 2007, the Louisiana Coastal Area (LCA) program was authorized in partnership with the Coastal Protection and Restoration Authority of Louisiana (CPRA) to focus on a systematic approach to coastal restoration. 
This program authorized creation of the Coastal Louisiana Ecosystem Protection and Restoration Task Force, which would include secretaries and heads of relevant federal agencies, CPRA, and two representatives of the state of Louisiana selected by the governor. The task force was intended to be a venue to address conservation and restoration activities throughout coastal Louisiana, but it never appointed members.
WRDA 2020 requires the Corps to report to Congress and summarize the activities and finances of relevant agencies involved in the task force (Section 212). Although the task force was never active, this provision represents an important and timely step toward renewed federal interest and engagement in the Louisiana Coastal Area plan – as it will take all levels of government working together to confront the challenges ahead.
2. Uncovering Solutions to Frequent Flood Events Impacting Louisiana and Mississippi
If you are from Louisiana or Mississippi, you have probably heard of the Bonnet Carré Spillway, which is a flood control project administered by the Corps to relieve pressure on Mississippi River levees during river floods to protect one million people in southeast Louisiana.
In recent years, due to climate change, increasing precipitation and river flooding, the spillway has been opened on an almost annual basis. The spillway diverts water through Lakes Pontchartrain and Borgne in Louisiana and the neighboring Mississippi Sound. Spillway openings can cause rapid shifts in the balance of salt water to fresh water in these estuarine systems. This has raised important questions about whether the Corps can better meet the needs of flood protection and ecosystem restoration given the likelihood of increased flooding in a changing climate.   
Recently, Tulane University scientist Dr. Ehab Meselhe performed a study to address that question, concluding that river and sediment diversions planned upriver from the Bonnet Carré Spillway (Ama and Union) could significantly reduce the amount of water flowing through the spillway while also restoring nearby wetlands.
While this research points to one specific solution to address more frequent river floods, WRDA 2020 (Section 213) will engage the Corps in a comprehensive look at the entire Lower Mississippi River Basin and direct the agency to make recommendations for the management of this important system. Included in that comprehensive analysis is examining how ecosystem restoration projects – including sediment and freshwater diversions like Ama and Union, as well as the Increase Atchafalaya Flow to Terrebonne project – can also result in improved management of the Lower Mississippi River basin. Through this comprehensive analysis, the Corps will gain new insights into how to use sediment diversions and other nature-based solutions to mitigate flooding and reduce the need to use the spillway during high flood years – with better outcomes for Mississippi and Louisiana alike.
3. Debt Forgiven and Diverted to Coastal Master Plan
After Hurricane Katrina created lasting damage in southeast Louisiana, Congress authorized and funded the Corps to create and implement the Hurricane and Storm Damage Risk Reduction System (HSDRSS). HSDRSS works to reduce storm surge and other flood risks via levees, floodwalls, pumping stations, and more across a 133-mile Greater New Orleans perimeter.
WRDA of 2020 authorizes federal renegotiations of debt repayments (Section 351) with non-federal interests. For Louisiana specifically, delays in substantial completion of the $15 billion risk reduction system resulted in construction interest costs incurred to skyrocket. This WRDA allowance for renegotiation could result in significant savings for the state because it means interest debt could be forgiven if Louisiana commits to pay back all of the principal over three years. This would free Louisiana from an obligation of $100 million a year for 30 years and allow those critical savings to be spent on the implementation of other Coastal Master Plan projects.     
4. Environmental Justice Considerations
Too often, traditionally low-income and communities of color bear the brunt of climate change, coastal land loss, hurricanes and more. WRDA 2020 directs the Corps to provide support for economically disadvantaged communities, frontline communities subject to repetitive flooding, and Indigenous and communities of color (Sections 111, 112, and 118). More specifically the Corps will provide resilience planning assistance, improve stakeholder input when carrying out water resources development projects, and assess flood risk and hurricane storm damage reduction needs for these communities. WRDA 2020 will help these communities be more prepared for flooding and have a voice in flood control projects that are built nearby.
With WRDA 2020, Congress has delivered significant wins for the people, resources and wildlife of Louisiana and the Gulf Coast. We must all now work together to move these priorities forward.