Mississippi River's High Water Brings (Literally) Tons of Needed Sediment to Louisiana
By
Alisha Renfro
, Coastal Scientist, Mississippi River Delta Restoration Program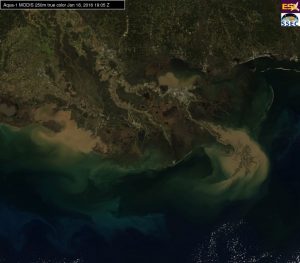 This is the second in a series of blog posts focusing on the recent opening of the Bonnet Carré Spillway in response to the Mississippi River high-water event. See the first post on the history of the Mississippi River and Tributaries (MR&T) system here. 
The current high-water event on the Mississippi River is sending more than one million cubic feet of water per second down the lower Mississippi River, carrying with it sediment that is an essential ingredient to restoring Louisiana's wetlands. The unfortunate irony is that a great deal of this sediment is passing right through Louisiana and off the outer continental shelf, beyond where it can be of any immediate restorative benefit to the state's vanishing wetlands.
Historically, flood events like this helped to build and maintain the once vast wetlands of the Mississippi River Delta. Today, without sediment diversion projects in place, much of that turbid brown water completely bypasses our sediment-starved wetlands and is lost. Once in place, sediment diversions, integrated with the flood protection system, will capture this opportunity and put the river back to work rebuilding our wetlands.
On average, the Mississippi River carries about 2.5 tons of sediment per second past the Belle Chasse river gage south of New Orleans. However, during high discharge events, sediment load in the river can increase considerably. When river discharge reaches one million cubic feet per second, roughly 6.5 tons of sediment is carried past the Belle Chasse station every second – that's more than double the average.
Over the last two years, an estimated 184 million tons of sediment has passed Belle Chasse. Some of this sediment is deposited in the river channel, in wetlands and in shallow water around the Bird's Foot Delta. However, most of this sediment is lost to deeper waters off the continental shelf, as seen in the above MODIS satellite image.
As Louisiana's land loss crisis has worsened, the need to capture and use this sediment is greater than ever. But while our sediment counter continues to tick away, some progress has been made. Since 2012, projects in the vicinity of Lake Hermitage, Bayou Dupont and Grand Liard have used sediment dredged from the river to create land. Even more significant, last October, the Coastal Protection and Restoration Authority recommended the advancement of two sediment diversion projects at Mid Barataria and Mid Breton into engineering and design. Together, marsh creation and sediment diversion projects will better leverage the precious resource that is constantly flowing through our state to help restore Louisiana's coast.
Hopefully the next time we have a high-water event like this one, we'll have sediment diversions in place to make the most out of the situation: to both reduce potential flooding AND capture sediment for restoration. Now that's a win-win.