Restoring a Vital Storm Buffer for Southeastern Louisiana
To restore Louisiana's coast, we need a suite of large-scale restoration projects across the coast working together to deliver maximum benefits to reduce land loss, restore ecosystems, and maintain healthy and diverse habitat. In our "Restoration Project Highlights" series, we take a deeper look at specific projects from our list of Priority Projects, highlighting why they're needed and hearing local perspectives on importance.
(This blog was updated on February 2, 2021, to reflect new project milestones.)
Why do we need the New Orleans East Landbridge Restoration Project?
You might not know it, but the New Orleans East Landbridge is on track to largely disappear over the next 50 years. Losing the landbridge will have a major impact on people and wildlife in the Greater New Orleans area. The landbridge, deemed a "Critical Landscape Feature" by the Army Corps, reduces storm surge and provides storm protection for over 1.5 million people who live around Lake Pontchartrain and Lake Maurepas, including the cities of New Orleans, Baton Rouge, Metairie, LaPlace, Mandeville and Slidell. The New Orleans East Landbridge separates Lake Pontchartrain from Lake Borgne and the Gulf of Mexico. In addition to storm protection, the landbridge provides important wetland and estuarine functions, including control of tidal flow between the Gulf of Mexico and Lake Pontchartrain. Unfortunately, canal dredging, levees, wave exposure, subsidence and sea level rise have caused erosion and recession of the shoreline and have significantly degraded vital marsh habitat.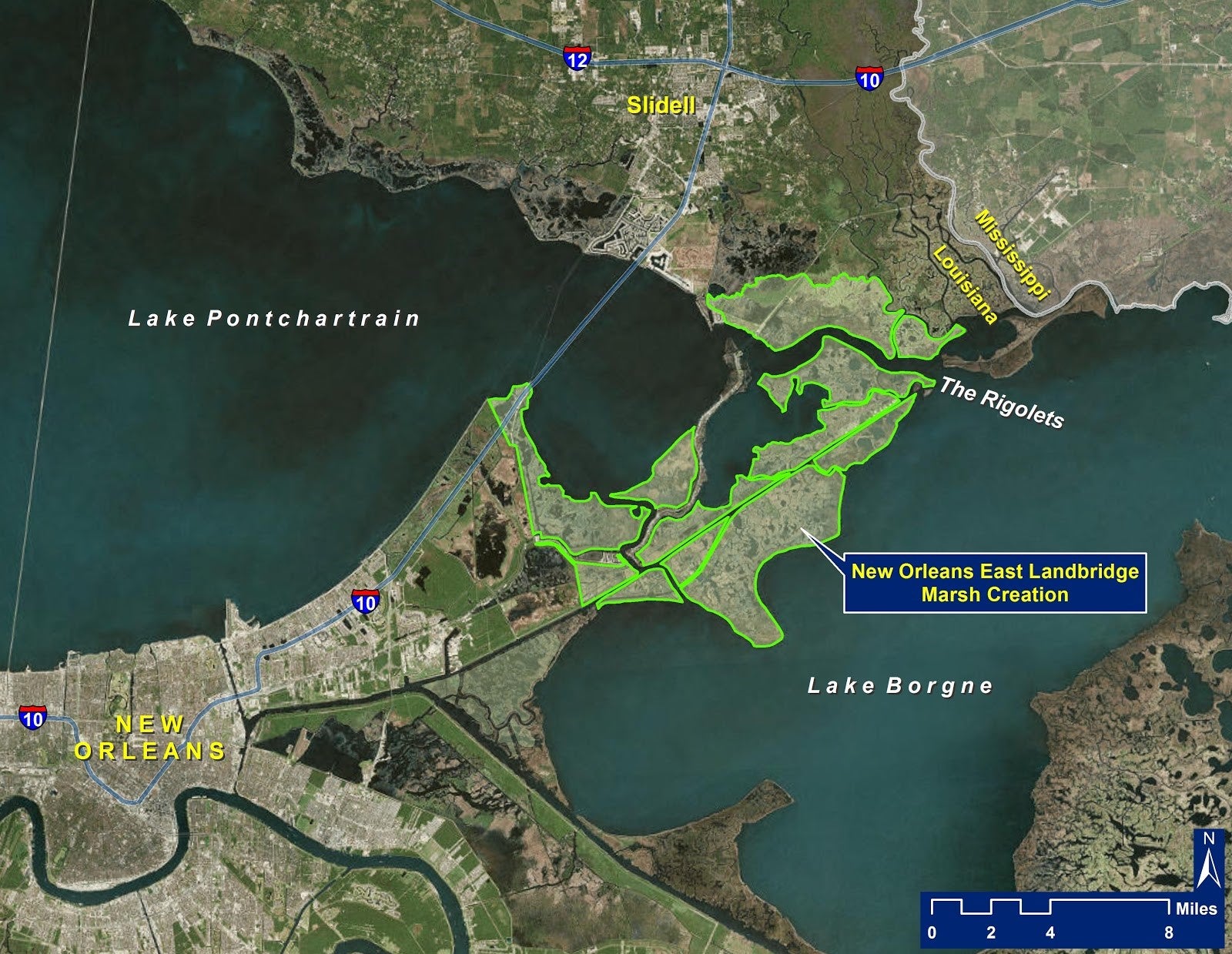 The good news is that there is restoration planned and ongoing for the landbridge. The Corps of Engineers identified elements of landbridge restoration as part of its Mississippi River Gulf Outlet Ecosystem Restoration Plan. Further, the Louisiana's Coastal Master Plan (CMP) lays out an ambitious plan for restoration with a $1.5 billion price tag, though the majority of needed funding has not yet been secured. The CMP calls for large-scale marsh creation project that will create and restore 33,400 acres of marsh, mainly through a sediment conveyance pipeline and vegetative plantings. The project area spans 52 square miles and includes Fort Pike Historic Site, US Highway 90 and Bayou Sauvage National Wildlife Refuge – the largest urban wildlife refuge in the nation. The project will help maintain the integrity of the landbridge shoreline, increase protection from storm surge and waves, improve fish and wildlife habitat and increased resiliency of coastal wetlands to erosion, subsidence and sea level rise.
A local's take on the New Orleans East Landbridge
Wildlife Need the Landbridge
The New Orleans East Landbridge is teaming with wildlife! Hundreds of species of fish and wildlife depend on the landbridge, which provides a range of habitat types across its vast expanse. Salinity ranges along the landbridge mean you can catch speckled trout and redfish or bass and bluegill, depending on where you fish. Shrimp and blue crabs use the marsh for protection in their juvenile phase and provide a food source for fish like black drum. Red-tailed hawks rely on small mammals on the landbridge, like swamp rabbits, for their winter meals. Herons, ospreys, bald eagles and seaside sparrows also use the skies, marshes, and shorelines of the landbridge. Down in the marsh, you can find river otters, mink, Diamond-back terrapins, marsh rice rats (a favorite meal for the northern harrier hawk), saltmarsh snakes, northern cricket frogs and alligators. 
Swamp Rabbit: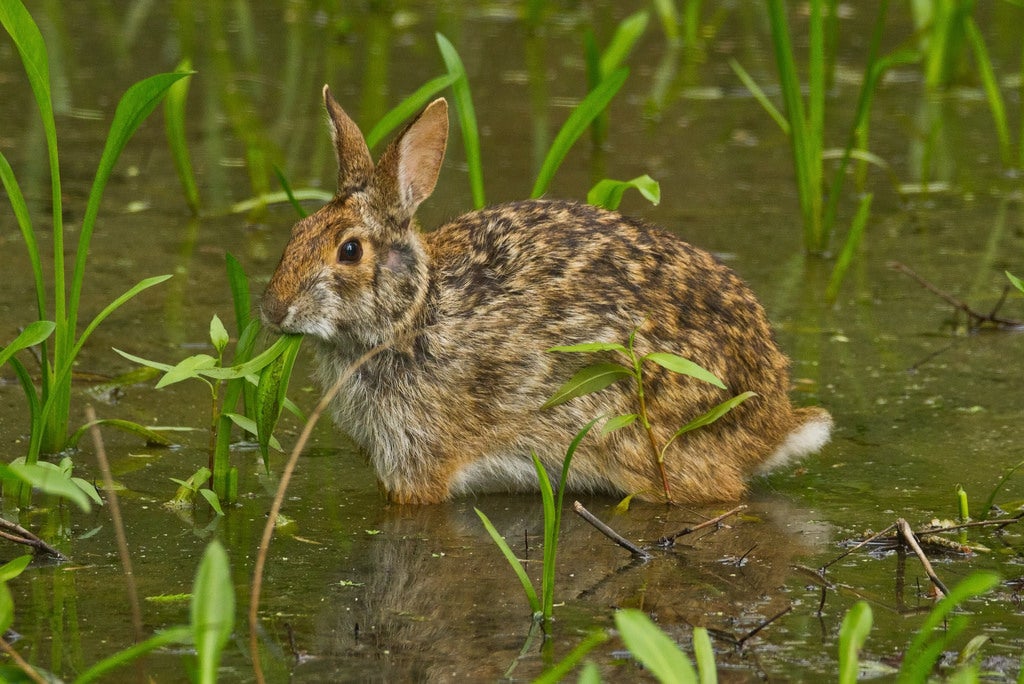 Credit: Lindell Dillon
Swamp rabbits are a significant herbivore on the landbridge, foraging at night for grasses, twigs, bark, and seedlings. They provide a food source for raptors, snakes, bobcats, and gators. Swamp Rabbits are the largest member of the cottontail genus and can live up to nine years.
What Does a Future Without Action Look Like?
Future with action assumes all projects in the 2017 Coastal Master Plan are operating.
| | |
| --- | --- |
| What does a future without action look like? | What does a future with action look like? |
| | |
When Will the Landbridge Be Restored?
Though the full CMP project area on the landbridge is not fully funded, there are several projects being implemented or in planning on the landbridge. Mitigation for levee improvements built post-Katrina and the Coastal Wetlands Planning and Protection Act (CWPPRA) program are both helping to move forward increments of the project. Post-Katrina levee system mitigation is in the process of restoring over a thousand acres of marsh in the Bayou Sauvage area of the landbridge. There are five mitigation projects, and construction is either almost complete on those projects. The CWPPRA program is currently working to restore almost 1,000 acres of marsh and protect approximately 30,000 feet of shoreline through the Fritchie Marsh and Terracing project, St. Catherine Island Marsh Creation and Shoreline Protection project and New Orleans Landbridge Shoreline Stabilization and Marsh Creation project. The CWPPRA projects are currently in Engineering and Design phase, with the exception of the shoreline stabilization and marsh creation project, which is moving into construction phase.
In 2020, the City of New Orleans and the Louisiana Coastal Protection and Restoration Authority received a National Fish and Wildlife Foundation grant for preliminary planning and design of a large-scale project on the New Orleans Landbridge. The project will create 1,563 acres of new wetlands and 21,597 feet of living shoreline protection installed in Lake Borgne along eastern edge of the new marsh area.
---
Be a voice of support for this critical restoration project! Sign up here:
Funding is still needed to help move the project from planning to implementation. To find out more about how you can help, please complete the form below: