This Restored Ridge Will Provide Hurricane Protection for Terrebonne Parish
To restore Louisiana's coast, we need a suite of large-scale restoration projects across the coast working together to deliver maximum benefits to reduce land loss, restore ecosystems, and maintain healthy and diverse habitat. In our "Restoration Project Highlights" series, we take a deeper look at specific projects from our list of Priority Projects, highlighting why they're needed and hearing local perspectives on importance.
What is the project?
The Terrebonne Basin has lost nearly half of its land area in the last 30 years which makes restoring this area critical for sustaining Louisiana's coast. The Terrebonne Basin Ridge and Marsh Creation Project: Bayou Terrebonne Increment is intended to restore some of the land lost in Terrebonne Parish.
This project offers multiple restoration benefits. It will restore 10 miles of ridge with five openings to accommodate local boat traffic. The restored ridge will be approximately 3 to 5 feet higher than its current, degraded state, measuring approximately 20 feet tall at the top of the ridge. The project also will restore 1,430 acres of marsh.
This project began as the Bayou Terrebonne Ridge Restoration project in the 2017 Coastal Master Plan and includes four increments in total. This increment is the first to receive money through the Louisiana Trustee Implementation Group, which distributes funds from the BP oil spill settlement.
The other increments are three other ridge and marsh creation projects north of Terrebonne Bay and one marsh creation project west of Bayou Lafourche. The four increments will be funded and constructed separately.
What is this Project's Status?
In 2017 and 2018, the Louisiana Trustee Implementation Group approved $5,345,000 for engineering and design of this project. A little under half of these funds have been spent so far. Most of the project's design is expected to be complete by March 2021, and a bid is expected to be released in December 2021.
In August 2020, the Louisiana Trustee Implementation Group released its Draft Restoration Plan and Environmental Assessment #7: Wetlands, Coastal, and Nearshore Habitats, and Birds. In this plan, they estimate that the total construction and implementation cost for this increment will be $156.5 million. Permitting is intended to be complete by summer 2021.
When Will This Project be Constructed?
Construction is expected in the beginning of 2022 following the awarding of a construction permit and the bid process to complete in late 2021. Once started, construction will take approximately 20-36 months to complete.
What Does a Future Without Action Look Like?
Future with action assumes all projects in the 2017 Coastal Master Plan are operating.
| | |
| --- | --- |
| What does a future without action look like? | What does a future with action look like? |
| | |
Why Is This Project Important?
Terrebonne Parish suffers from the highest rates of land loss in the state, requiring a system of floodgates and miles of levees to see some relief from the encroaching gulf. Once implemented, all four increments of the project together are expected to restore 5,000 acres of the natural hurricane buffer that has vanished as the marsh and ridge have degraded. Coastal ridge habitat supports woody species like trees that need elevation above water to grow and can decrease the impact of winds on coastal communities.
How Will This Project Benefit Wildlife?
The marshes and ridges of Terrebonne Parish that will be restored support many colorful species of birds, some of whom migrate long distances to breed. One of these species is the Least Bittern. This is one of the smallest herons in the world, living in dense marshes and feeding on a variety of small fish and invertebrates. They are an elusive bird and are more likely to be heard rather than seen. Their song sounds like a low, harsh, chuckle coming from the dense vegetation, where they remain concealed and camouflaged, clinging to reeds and stalking their prey. When threatened, a bittern will mimic windblown marsh vegetation by freezing in place with its bill pointing upward, and swaying back and forth with the reeds. The project's projected 1,430 acres of new marsh secures a future home for Least Bitterns and a suite of other wildlife.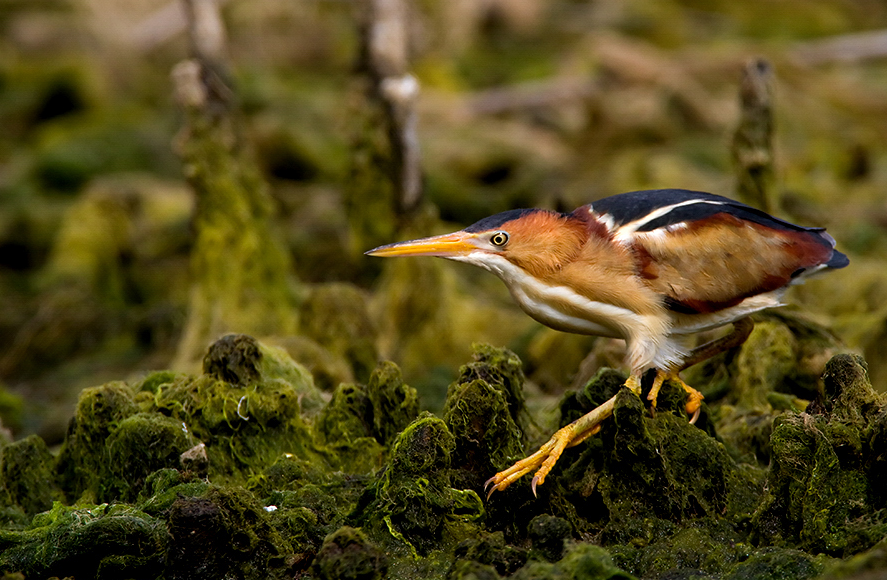 ---
Be a voice of support for this critical restoration project! Sign up here:
Sign up here to stay updated on this project and to hear about opportunities to advocate for its completion.