Coastal Louisiana Supporters Rally at Concert for the Coast
By
Amanda Moore
, Deputy Director, Mississippi River Delta Restoration Program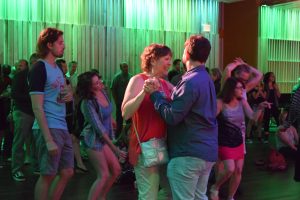 We're at a crucial moment for our coast. Louisiana's 2017 Coastal Master Plan – the state's blueprint for restoration and protection over the next five years – is making its way through the Louisiana Legislature. This plan and the projects it contains are critical to the protection of Louisiana's communities and culture.
To celebrate the culture that Louisiana's coast supports and to raise awareness to the need to restore our coast and support the Coastal Master Plan, we held a concert and rally with some of the best musicians, performers and coastal advocates our state has to offer!
See our favorite pictures from the night!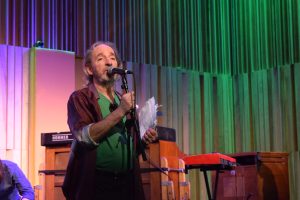 Restore the Mississippi River Delta's "Concert for the Coast" turned out friends and supporters for a night to remember. The evening was hosted by actor and activist Harry Shearer and featured top-notch performances from New Orleans "Supergroup" Dragon Smoke, Grammy-nominated Cajun band Lost Bayou Ramblers, and Mardi Gras Indians and brass band Voices of a Nation. Top Chef fan favorite and Louisiana-native Isaac Toups was also on hand to share his love for the coast and provide mouth-watering local cuisine for guests. Between sets, we heard from inspiring coastal champions like New Orleans Deputy Mayor Jeffrey Hebert, Director of the Governor's Office of Coastal Activities Chip Kline, and Woolard Family Foundation President Lynda Woolard. Thank you to everyone who came out!
What is one of your favorite memories of coastal Louisiana? What inspires you to support restoration? Watch this video we captured at Concert for the Coast to hear what some of your south Louisiana neighbors had to say, and submit your own stories, photos and videos to #OurCoast!
Concert for the Coast: Celebrating Louisiana's coast and the music and culture it supports, featuring interviews with musicians, coastal restoration advocates, experts, and more. #RestoreTheCoast

Posted by Restore the Mississippi River Delta on Thursday, May 18, 2017
Harry Shearer
Louis Michot
Concert for the Coast: Lost Bayou Ramblers' Louis Michot

"So much of the country depends on so much of the things that come from Louisiana and the Mississippi River." – Lost Bayou Ramblers frontman Louis Michot on the importance of Louisiana's coast to the nation, the need to restore it and his personal memories of the coast. Share this video if you agree and show your support here: http://bit.ly/2rg4et1! #OurCoast #RestoreTheCoast

Posted by Restore the Mississippi River Delta on Wednesday, May 24, 2017
Stanton Moore
Concert for the Coast: Stanton Moore

"We're literally on the verge of having it wash away, if we don't protect the coast." – founding member of Galactic and funk jam-band Dragon Smoke member and drummer Stanton Moore is a strong advocate for coastal restoration. Check out the video to learn why and take action today to stand up for Louisiana's coast: http://bit.ly/2rg4et1 #OurCoast #RestoreTheCoast

Posted by Restore the Mississippi River Delta on Thursday, May 25, 2017
You can help us keep the beat going by sharing your support for restoration and the Coastal Master Plan! Click here to send a note to your legislators today.