Grand Bayou Village Needs Your Help
YOU CAN HELP THIS LOUISIANA TRIBAL COMMUNITY SIGNIFICANTLY IMPACTED BY HURRICANE IDA
Many small coastal communities across southeast and south-central Louisiana are relying on support from neighbors and strangers as they recover from the devastation from Hurricane Ida.
Restore the Mississippi River Delta is working to highlight some of those communities and the opportunities to help them as they recover and rebuild in the wake of this storm.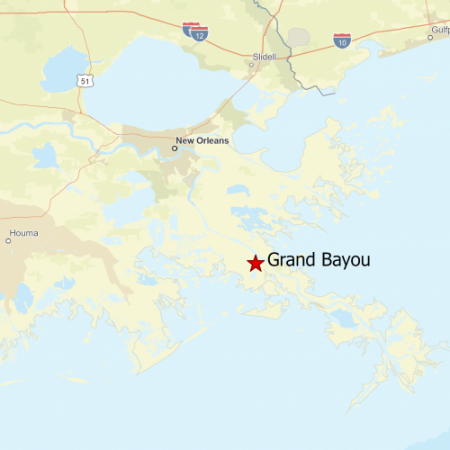 Grand Bayou Indian Village, in a remote corner of Plaquemines Parish accessible only by water, is home to the Atakapa-Ishak/Chawasha Tribe. This subsistence-based community traces its history back to the origins of the Plaquemines Delta some 1,000 years ago, centuries before Europeans colonized what is now Louisiana. Nearly 1,000 people lived in the village as recently as the 1940s, but as the land around it has washed away, the community has also gotten smaller; just fifteen families remain as full-time residents, while many return periodically for seasonal and community events.
Grand Bayou was on the eastern side of Hurricane Ida as it made landfall, sparing the village from the brunt of the hurricane's destruction. However, the storm caused extensive water damage to many homes, according to Tribal Elder Rosina Philippe. More than a month after the hurricane, electricity is still limited and there is no water in the village. 
"For us, home is more than the building you live in. It's everything in the environment that surrounds you. If you leave, you become someone else. You are no longer the same person. No longer the same people," said Philippe.
Residents of Grand Bayou Indian Village have been watching Louisiana's coast vanish before their eyes for decades. They rebuilt after Hurricane Betsy in 1965 and again after Hurricane Katrina in 2005. Now they are facing another catastrophe — hurricanes are becoming more intense, sea levels continue to rise, and government support and infrastructure are not meeting the needs of frontline coastal communities.
Like several other Indigenous communities in south Louisiana, Grand Bayou Indian Village is not formally recognized by the U.S. Bureau of Indian Affairs, so the federal government does not provide direct help through disaster declarations. Furthermore, remote communities like the Atakapa-Ishak/Chawasha lack state recognition, as the petition process is often cost- and time-prohibitive for smaller Tribes. Residents of Grand Bayou Indian Village recall being tricked out of ownership of the land they have inhabited for centuries, and largely being left out of the state's Coastal Master Plan. The Tribe must lean on its own networks for recovery and resilience. 
There are bright spots in Ida's aftermath. One of them is that an oyster reef built by volunteers with the Coalition to Restore Coastal Louisiana and residents of Grand Bayou Indian Village survived the hurricane and helped limit erosion of a culturally significant site.
According to CRCL Restoration Programs Director Kellyn LaCour-Conant, "the reef will continue to serve as a landmark even as the surrounding wetlands may change, and without it, damage caused by the hurricane could have been much worse." The reef will serve as shoreline protection for a traditional mound complex long-stewarded by the Grand Bayou community, and will support local fisheries habitat. For people of Grand Bayou who live in deep connection with the water, this is a sign of hope for the future.
The Tribal Community of Grand Bayou Indian Village Needs You. Here's How You Can Help Them Directly:
Donate directly to Grand Bayou Indian Village — Donations towards the rebuild of Grand Bayou Indian Village Community can mailed be to: Light Tabernacle Church P.O. Box 663, Port Sulphur, LA 70083 or by electronic transfer to Venmo: @Donielle-Ancar-Brinkley (Please note the transfer is for GBIV via Light Tabernacle Church-this will make your donation tax-deductible as it is a nonprofit.)
How Hurricane Ida impacted Grand Bayou Indian Village and their ongoing needs after the storm:
Additional organizations helping with ongoing Hurricane Ida relief: