2017 Coastal Master Plan Priority Projects
The Mississippi River Delta and coastal Louisiana provide unique and varied landscapes that offer an array of benefits to Louisiana, the Gulf Coast and the entire nation. Coastal Louisiana feeds and fuels the country, and its ports connect the United States to the world. Unfortunately, Louisiana's coastline – including the Mississippi River Delta – is vanishing at an alarming rate. Since the 1930s, about 2,000 square miles of land have turned into open water – an area nearly the size of the state of Delaware.
Time for Action
With the unanimous passage of the 2017 Coastal Master Plan, and with significant revenue coming to Louisiana from the BP oil spill settlement and the Gulf of Mexico Energy Security Act, now is the time for state and federal decision makers, business leaders and the public to work together to quickly advance restoration projects.
Without swift, decisive action and bold, large-scale restoration efforts, our coastal land loss crisis will only worsen. Strategic prioritization and efficient implementation of projects can help avoid a future in which our state could lose an additional 2,250 square miles of land over the next 50 years.
Restore the Mississippi River Delta has identified 17 projects in Louisiana's 2017 Coastal Master Plan that, if prioritized and implemented quickly, will help restore and maintain as much of Louisiana's coast as possible to achieve a resilient future not only for the people, wildlife and industries of this nationally-significant region.
---
Use Our Interactive Map to Learn More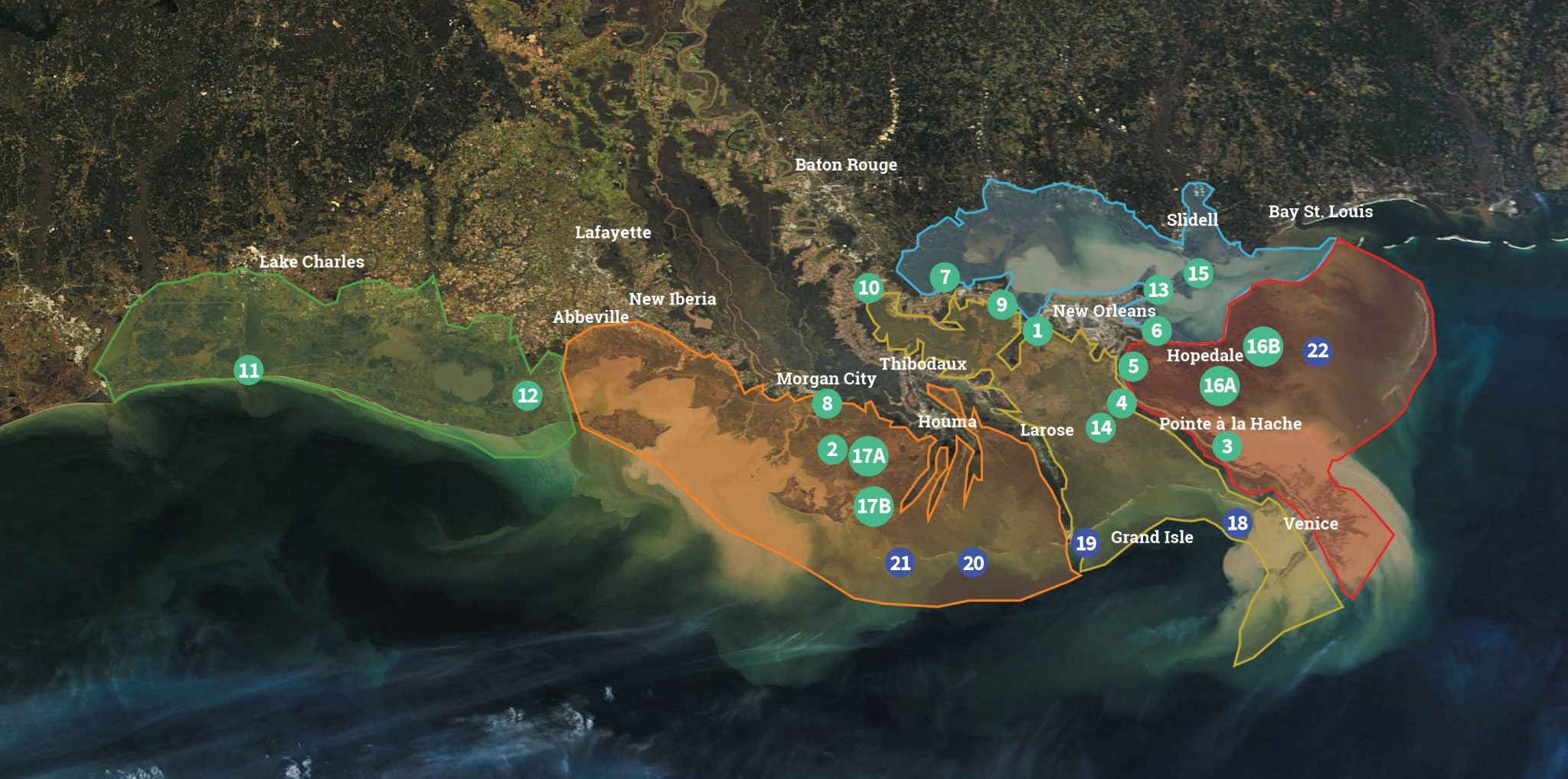 Project Key
---
Listen to Our Podcast: Delta Dispatches
On a special episode of Delta Dispatches, hosts Simone & Jacques talk about the new report "Recommendations for Coastal Restoration Projects and Programs in Louisiana."
Guests Alisha Renfro, Coastal Scientist at National Wildlife Federation and Erik Johnson, Director of The Bird Conservation at Audubon Louisiana join the program to highlight some of the projects and talk about the importance of coastal restoration in Louisiana. 
---
Our Priority Projects & Programs
This list of priority projects was identified as the most urgent and most beneficial to the long-term sustainability of the delta. Equally important, these 17 projects are a central part of the Coastal Master Plan, which was developed and passed after months of comprehensive scientific research, modeling and stakeholder input. By expediting funding and construction of these projects, we have a historic opportunity to restore our coastal wetlands and protect the thousands of businesses and jobs that depend on a healthy Mississippi River Delta.
Our updated list of 17 priority projects encompasses a wide variety of project types, including sediment and freshwater diversions, hydrologic restoration, marsh creation and ridge restoration. We have also selected two programmatic priorities from the 2017 Coastal Master Plan, including barrier island restoration and oyster reef restoration.
These projects and programs are grouped within five distinct basins across coastal Louisiana and advance critical restoration priorities that have benefits to the entire ecosystem.
---
Discover Each Basin