The Bayou City of Houma, Louisiana Needs Your Help
YOU CAN HELP THIS COASTAL LOUISIANA TOWN SIGNIFICANTLY IMPACTED BY HURRICANE IDA
Many small coastal communities across southeast and south-central Louisiana are relying on support from neighbors and strangers as they recover from the devastation from Hurricane Ida.
Restore the Mississippi River Delta is working to highlight some of those communities, and the opportunities to help them as they recover and rebuild in the wake of this storm.
About sixty miles southwest of New Orleans lies Houma, Louisiana, the most populous city in coastal Terrebonne Parish. Houma was devastated by Hurricane Ida, along with many nearby low-lying bayou communities.
Even prior to Hurricane Ida, this historical and multicultural town was on the front lines of coastal land loss, feeling the very real impacts of ongoing sea level rise and subsidence. In fact, since the 1930s, the Gulf has moved 10 miles closer to Houma as a result of ongoing land loss.
As the eyewall of Ida stalled out right near Houma for an extended period of time, this seat of Terrebonne Parish suffered extensive wind and water damage from the storm.
Most of the homes are in need of major repairs, and temporary housing for those in need remains an issue, even weeks after the storm. Some schools are even sharing spaces with others in nearby parishes due to extensive damage to school buildings. Grocery store inventory can be a challenge, and basic services like internet access are still unavailable to many residents in Ida's wake.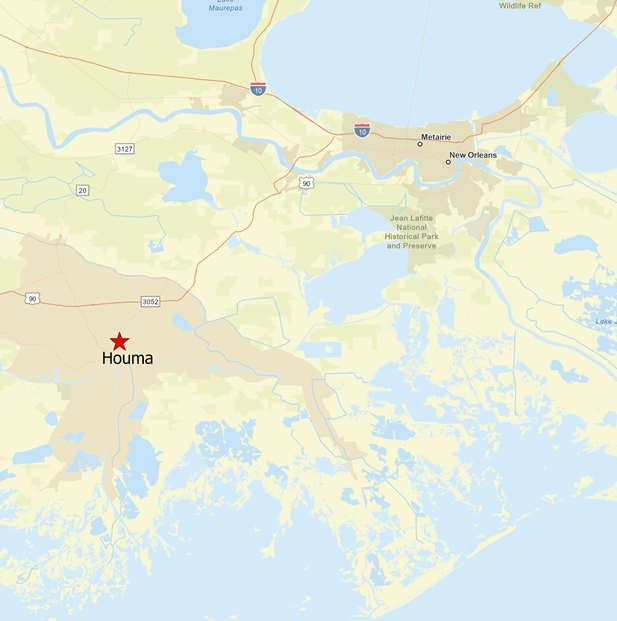 Houma is an economic and cultural hub for Terrebonne Parish. Settled centuries ago by the Chitimacha and Houma Tribes, the present-day town was incorporated in the mid-1800's, with sugar cane harvesting and sugar production as its main industries. Today it is a vibrant community with Native American, Black, Cajun, Creole, Hispanic and Latino heritage, among others. Like so many of Louisiana's coastal communities, the businesses and cultures of Houma are inextricably tied to the natural resources along the coast and are at continued threat due to land loss, storm surge — and now extensive damage from Hurricane Ida.
Though this community has weathered many storms before, Ida was unlike any other, as hurricanes become more intense in response to global climate change. Houma residents need your help as they begin the long, arduous process of cleaning up and rebuilding their community.
"Houma residents lovingly say 'Houma's where the heart is,' because our ties to our community and culture run deep. Rebuilding from Ida's destruction will be no small feat, but in places like Houma, people stand ready to lock arms together and help each other get back on their feet," said Emily Guidry Schatzel, a Houma native and senior communications manager for the National Wildlife Federation's Gulf program who is working to help coordinate donations and supplies to her hometown.
The Bayou City of Houma Needs You. Here's How You Can Help Them Directly:
Please consider giving to organizations on the ground in impacted communities.
How Hurricane Ida impacted the Houma community and their ongoing needs after the storm:
Additional organizations helping with ongoing Hurricane Ida relief: